Hotel Delft Centre's seven FAQs
Hotel Delft Centre is the hotel in Delft and so the staff have to field a very wide range of questions. But the red carpet is always rolled out, especially if you've got any questions. Today we're zooming in on the most frequently asked questions at Hotel Delft Centre. Tring! The phone rings. "Hotel Delft Centre – good afternoon. How can I help you?" And the person on the other end of the line asks their question.
1. Where can I park?
Normally we refer all our guests to the Markt car park. But there are a few parking spaces behind Hotel Delft Centre. Those spaces can't be reserved in advance, though.
2. How late does the bar stay open?
A good question. Until half past midnight. But our friendly room service can of course always bring you drinks. We'll love to help you! You're the star here. Because that's how we've been doing it since the seventies.
3. What fun activities are there to do in Delft?
There's just so much to do in Delft, from city walks to an escape room, and from climbing the Nieuwe Kerk tower to visiting the TU campus. Delft is known for its distinctive character – picturesque streets, friendly squares and hip hotspots. Welcome to the Princes' City!
4. What's that artwork that you've got at the hotel? Is it graffiti?
The artist Micha de Bie created a large-scale fresco on the wall of Hampshire Hotel Delft Centre. The project was completed recently, with support from the town council. A professional piece of graphic art covering no less than two hundred square metres – not to be missed! All kinds of hidden elements can be discovered in the painting – can you find them?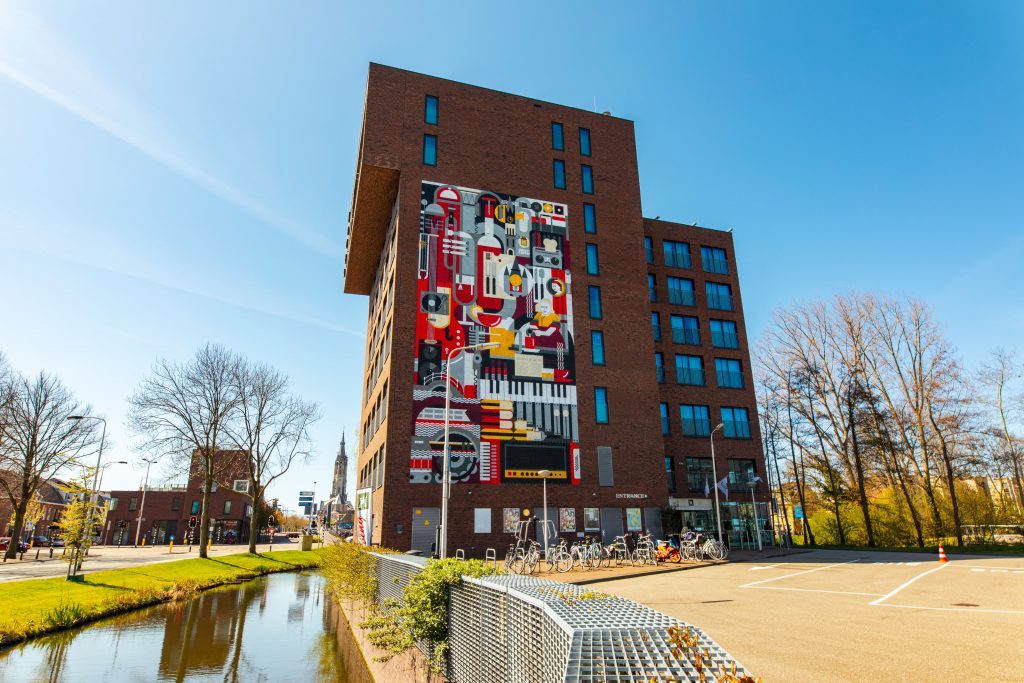 5. What are the meal options at Hotel Delft Centre?
Whether you're staying overnight in Delft or simply here for a business meeting, you'll be ready for something good to eat. From breakfast to dinner, we've got the tastiest food. With good service and a great view of Delft included! Restaurant Swing gets the tastes of Dutch and French cuisine tripping the light fantastic together. Doesn't that sound like music to your ears?
6. Can I hire a room for work purposes?
A meeting in Delft? An event with colleagues, or a networking gathering? For something like that, you need an appropriate, suitably inspiring business space. The good news is, you can do that right in the middle of Delft. Professional and businesslike, yet with the warmth of a home welcome. And with all mod cons, of course, such as a projector, Wi-Fi and air conditioning.
7. Do you have any good packages I can book?
Absolutely! Better than that: we're famous for it. It's a way of blending creativity with hospitality. Take 'True Colors of Delft', for instance. An overnight stay in a Comfort class room followed by breakfasting like royalty. Then a bit of fresh air as you discover Delft. Sail down the glittering canals, get to know what inspired Vermeer's colour palette, or discover the modern street art. Or climb the tower of the Nieuwe Kerk – the New Church – and gaze out over Delft's colourful roofscape. From 2 people for €62.50 per person